The final half of the final season of Game of Thrones is upon us and we're all wondering the same thing: Who wins the game?
Each week, I'm going to do a theme recipe for each of my guesses for who will sit on the iron throne in the end. Since I've planned these out in advance, it's entirely possible that all six of these guesses will die before their post goes live. I hope that's not the case, but bearing that in mind, I'll be ordering my posts by most likely to die to least likely to die. Sadly.
If you guys want to see me make these recipes live, tune into www.twitch.tv/fontinaturner. I'll be cooking on Saturday and posting the recipes on Sunday.
Anyway, let's dig in.
<SPOILERS, DINGUS>
I know he has no actual birthright to the throne, but he is the most cunning and manipulative character on the show and if anyone can take it out from under the whole lot of them, it's Lord Varys. With Littlefinger being gone, I feel like Varys is a standout character with a lot of potential. I could see him usurping all the other candidates with his spy networks and mind games and taking it last minute. I for one, would like to live in a Westeros with a eunuch for a king.
I know I've done a recipe for Varys in the past (Lord Varys' No Bean Chili) but we're gonna do another one anyway. Ladies and gents, I present: Little Bird Fricassee in a Whisper Sauce.
After all, "Power is a curious thing, my lord… Power resides where men believe it resides. It's a trick, a shadow on the wall. And, a very small man can cast a very large shadow."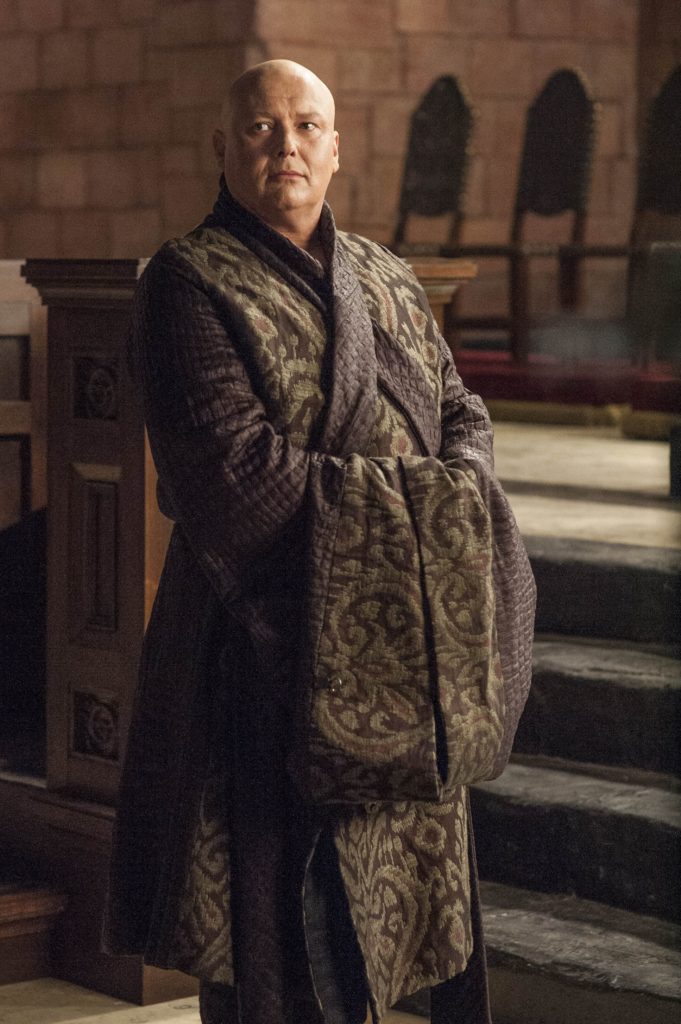 Little Bird Fricassee in a Whisper Sauce 
ingredients
6-8 chicken thighs
olive oil
salt and pepper
2 tbsp butter
1/2 large white onion, diced
1 large carrot, peeled and diced
1 stalk of celery, chopped
8 oz mushrooms, roughly chopped
2 tbsp flour
1/4 cup dry white wine
1/4 cup dry vermouth
1 cup heavy cream
2 cups chicken broth
1 tbsp fresh thyme
1 tbsp fresh parsley
Salt and pepper both sides of chicken thighs. Heat 2-3 tbsp olive oil in a large skillet (depending on the size of your thighs). Cook until browned, 3-5 minutes per side. Remove to plate and cover.
In the same skillet, melt butter. Toss in the onions, celery and carrots. Cook about five minutes until they are all softened. Add in the mushrooms. Cook another five minutes. Sprinkle flour over the top of the veggie mixture and stir to incorporate. Slowly whisk in the wine and vermouth to deglaze the pan. Followed by the cream and the broth. Add in thyme, parsley and any additional salt and pepper you desire.
Add he chicken thighs back to the pan and simmer for about an hour, stirring occasionally. Sauce will reduce by about half.
Garnish with additional parsley if desired. Serve with crusty bread.